If you're raising plants indoors, you're probably aware of the need to give them the right amount of light, nutrients, and water in order to maximize their growth. Temperature control is essential, as well. Did you know that fans are essential to maintaining the right environmental conditions?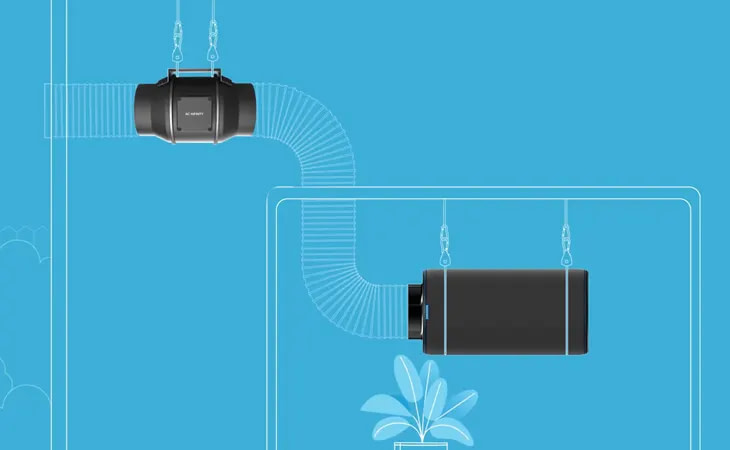 While no tent for grow tents will eliminate the need for an air extractor fan system or other forms of ventilation, you must have a fan to distribute the air coming in from the ventilation system.
Our Top 9 Best Fans Grow Tents
---
But what fan should you use? Here are our top 9 choices for the title of the best fans for grow tent usage.
01. AC Infinity Brand CLOUDLINE Inline Duct Fan
---
This duct fan has a six-inch diameter. It is designed to connect with your exhaust fan to distribute the air passing through the tent. It has a maximum airflow of 402 cubic feet per minute.
Features
This grow tent fan is unusual in that it comes with a temperature controller. It will increase or decrease airflow based on what your plants need.
You can also program a temperature profile, combine it with a fan speed controller, or let it trigger an alarm when a variable gets too high or low.
It also comes with an AC power plug, duct clamps, and all required mounting hardware. There is even a power cord for the sensor probe that monitors the climate inside your grow tent.
This is the best inline fan for grow tent for those who want everything they need in one package. It is relatively quiet. The noise level at the top speed is 32 decibels. It is lightweight. The good news is that this makes it easy to install in a lightweight tent, but it is fragile.
Issues
It is advertised as having humidity control as well as temperature control. It does not have humidity controls. The temperature controls don't always work properly with metal hydride or HPS lights.
Pros
Comes with everything you need in one box
Light enough to sit in unsupported tent vents
Cons
No humidity control though advertised as such
Won't work properly under MH and HPS lights
02. iPower Inline Fan with Speed Controller
---
This inline fan is made to fit eight-inch ducts. That makes it a better choice for large-scale operations. It also comes with 25 feet of uninsulated aluminum ducting.
Features
Yet it uses standard 120-volt AC power. This inline grow fan actually has a humidity monitor as well as a temperature controller. The digital readout is easy to read.
The fan speed can be set from 50 to 100 percent. It won't let you go slower than that to avoid overheating. There are other basic safety features built into the fan.
It also controls the odor thanks to its carbon filter. A pre-filter is included. This should be replaced every six months. You get a minimum of mounting hardware like hanging hardware and accessories like filters. You can buy additional hanging kits and ductwork from the manufacturer.
Issues
It is advertised as handling 350 cubic feet per minute, but it is really a little below 300 cubic feet per minute. The fan housing is not very durable. It may be damaged in shipping or if dropped during installation. Sometimes the fan doesn't work from the get-go because internal wiring was damaged.
The carbon filter itself may start to smell if the tent has high humidity or there simply isn't enough airflow through the fan.
Pros
Humidity and temperature control
Built-in carbon filter
Cons
Not durable
Doesn't move as much air as advertised
03. Tjernlund Model M-6 Inline Duct Booster Fan
---
This six-inch inline fan has a booster to maximize its airflow. It has a peak airflow of 460 cubic feet per minute. That makes this the best fan for high humidity or high moisture areas.
For example, it is a good choice for preventing mold in an aquaponics room. That is also why they're often used as spa exhausts and bathroom fans. Just don't let it get too hot.
Features
You get both the exhaust fan and mounting brackets with it. It is speed-controllable, but the manufacturer does not ship a speed controller with it. That is sold separately. You can also buy a separate Tjernlund air pressure activation switch that goes along with it. It has a low noise level, and it uses relatively low power consumption.
Issues
It may buzz or hum, especially if not tightly mounted or sitting in a loosely hung air duct. This model tends to develop a vibration over time that increases the noise level.
A different issue is that the duct doesn't have enough lip to securely hold it. This can contribute to the hum or buzz, but it can also cause the fan to outright fall over.
The unit is heat sensitive. It will shut down if it gets over 125 degrees Fahrenheit. That makes it unsuitable for high-heat applications.
Pros
High airflow
Various branded accessories available on the market
Cons
Shuts down at high temperatures
Noise
04. Hydrofarm Model ACDF6 Inline Duct Fan
---
This inline duct fan is advertised as having 400 cubic feet per minute of airflow. Actual throughput is closer to 300 CFM. It does move enough air to create negative pressure in a grow tent.
Features
The ceramic coating on the vent housing resists rust. The fan motor itself can last up to four years with continuous use. The fan has a durable outer body.
It has UL-recognized components. This suggests that it is more reliable than average. It is certainly safer since it has safety features like thermal protection.
The fan comes with both mounting brackets and an eight-foot 120-volt power cord. You have everything you need to mount it, as long as it is mounted outside of the ductwork.
Issues
It weighs roughly eight pounds. That's too heavy to simply sit in an unsupported duct. Yet it lacks solid mounting hardware to hold it securely in place.
It is loud. Slowing it down reduces the noise, but many people buy this because they need a lot of airflows.
Pros
High airflow
Rust resistant
Cons
05. iPower Brand Inline Duct Fan
---
This six-inch diameter duct fan by iPower is advertised as being able to produce 442 cubic feet per minute of airflow.
That's quite a bit given its size, and that is arguably why it is the best fan for small grow tent owners.
You get a basic 120-volt power cord that's five feet long with the fan. However, you aren't getting any additional ducting, though the manufacturer sells this separately.
The fan has a ceramic coating on the exterior shell that resists rust. It gets extra points for the lubricated bearings that run rather quietly and never need additional lubrication.
This fan can operate at higher temperatures than others on this list. It is rated to keep going when temps hit 180 degrees F. That makes this fan a great choice for venting hot, wet air from a sauna or hot grow operation.
Issues
It is loud even when properly installed, though the company says it has less than 65 dB of noise. At least it is easy to install. If anything is out of alignment, you'll hear loud scraping noises or a bad rattle when you turn it on. If this happens, don't use it, return it.
It regularly vents air out the seams of the fan. That makes it a poor choice if you need to minimize the potential smell.
Pros
High-temperature rating
Decent airflow
Cons
06. VIVOSUN Brand Vent Fan with Speed Controller
---
Vivosun is better known for its grow lights than its grow tent fans, but it does make both. The 2450 RPM motor can move up to 440 cubic feet per minute.
It has a variable speed controller, so you can run it much slower than this. This is probably the best inline fan for grow tent owners.
Features
One reason for this is that it has a thick vegan leather cover that minimizes vibration while absorbing noise.
You're not going to hear much in terms of motor noise, and you certainly won't hear rattling and vibrations.
This is a great fan if you need to keep things quiet. And you can slow the fan down if you need it quieter or don't need as much airflow.
Issues
One problem with this model is reliability. The capacitors and other components may burn out. You'll be lucky to get a year of continuous use out of it.
A different issue is mounting hardware. While you get a mounting bracket, it isn't easy to use. For example, it may be so awkward that you can't attach it to the mounting surface using a drill gun. You'll have to use a manual screwdriver at an unnatural angle or find another bracket.
Pros
Quiet
Significant airflow
Cons
07. Hurricane Brand Inline 1060 CFM Fan
---
This inline fan is one of the biggest fans on our list. It has a 12-inch diameter. It is often used as a household ventilation fan since it can vent a whopping 1065 cubic feet per minute.
It is easily classified as an industrial fan if you're running a growing operation. Furthermore, the design allows for high static pressure and can create negative pressure in a tent.
Features
It is made to be easy to install. It comes with a standard 120-volt power cord that's eight feet long. You don't get filters or pre-filters with it.
It may or may not ship with the necessary mounting bracket. It is relatively quiet, given its size. The bearings and bushings operate smoothly most of the time. However, if they are shot, they will start making a lot of noise.
Issues
There is no high-tech ventilation controller or sensors that turn it on and off based on temperature and humidity readings. It has a basic speed control knob, but that knob doesn't do anything over more than half the range.
Pros
Massive air volume
Easy to install
Cons
08. TerraBloom Brand 6 Inch Inline Fan
---
This inline fan has a six-inch diameter. It has an unusually high nearly 400 CFM airflow. The motor has a top speed of 2400 RPM. It puts out an average amount of noise.
Features
It has a built-in speed controller. You get a grounded power cord with it, too. It is made to fit seamlessly with TerraBloom carbon filters, but it doesn't come with any.
The unit balances price with performance. It has ETL-listed components, indicating that they're better than average.
This rating is equivalent to the Underwriters' Laboratory or UL certification.
Issues
The unit is heat sensitive. It cannot be used where temperatures go above 140 degrees. The heat can cause the plastic to deform. We'd recommend not using it where temperatures can go over 125 degrees since the fan can generate heat as it spins. Thermal overload sensors will shut it down.
It has a modest operational life expectancy. The bearings may fail after just a few months of continuous use.
Pros
Built-in controller
Good airflow given its size
Cons
Lower peak operating temperature than others on our list
09. Hon&Guan Inline Duct Fan with Speed Controller
---
This eight-inch diameter duct fan by Hon and Guan has a peak airflow volume of 760 cubic feet per minute. That's a lot given its moderate size.
The motor can go at speeds of up to 3500 RPM. Better yet, it comes with a variable speed controller. This isn't sitting with the fan in the duct.
Features
Instead, it is connected to the fan by a long 16-foot cable. It has acceptable performance at temperatures from four degrees below zero to 140 degrees F.
Most duct fans risk freezing up at below-freezing temperatures. However, that's more of an issue when it is used as a ventilation fan in the attic than when it is installed in grow tents. The motor is energy efficient. It hardly heats up during operations.
This design is unusual for allowing you to remove the duct ends with locking tabs. That simplifies the maintenance of the fan as well as the replacement of it.
Issues
It isn't rust-proof. It isn't even rust-resistant. The bearings will rust if it is exposed to high humidity. They'll also rust over time on exposure to ambient air. As they start to rust, they will become very noisy.
Pros
Significant airflow given its size
Easy to install and remove
Comes with a speed controller
Cons
What Fans Do I Need for My Grow Tent?
---
A fan of some type is necessary to moderate the temperature in the grow tent. Otherwise, the areas under your grow lights will be too hot while the edges of the tent will be relatively cooler.
This increases the odds of burned plants. An oscillating fan can help moderate the temperature in the tent. It may balance out the humidity, as well. However, a fan sitting in the grow tent is not sufficient.
Keeps the air in the grow tent fresh
You should have an air extractor fan system in place that keeps the air in the grow tent fresh. It is typically achieved by using an inline fan system that pulls outside air in and then pushes air inside the tent out.
Adding filters to the ventilation tubes can minimize any odors from inside of the grow tent from getting outside of the grow tent.
What Size Fan Do I Need for My Grow Tent?
---
The answer to this depends in part on how large the grow tent is. It also depends on the setup you have. For example, the fan needs to be larger or have a higher CFM rating if you're using carbon filters and long air ducts. If you have a basic grow tent with an existing extractor fan, then the air intake fan should be similar in capacity.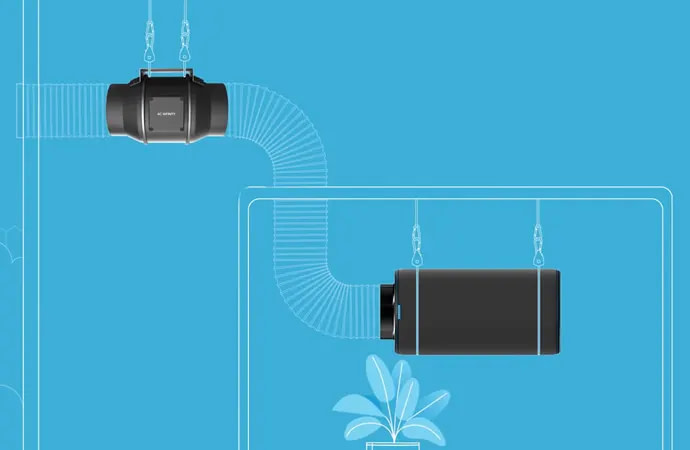 The first step is determining the volume of the grow tent.
Multiply the height, width, and depth of the room to get the number of cubic feet. If there's nothing else involved, you'd want a fan with that number of CFM, so that you can do a complete air exchange every minute.
We already mentioned that some factors increase or decrease the necessary CFM. Multiply the CFM value by 1.25 if you're using carbon filters since that slows down the airflow. If there is ducting, multiply the value by 1.1 for every ten feet of ducting. For every 1000 watts of grow lights, multiply by 10 percent.
Airflow requirements
Airflow requirements may vary based on the ambient temperature around the grow tent. If the grow tent is located in a closet, you don't need to alter the equation. If the grow tent is in a south-facing bedroom or cold attic, you'll want to increase the airflow.
If the tent is in a warm place, multiply the CFM value by 1.2 to ensure that the plants have enough ventilation to prevent overheating. If the tent is in a colder place like a basement, then you can reduce the CFM by 15 percent.
Conservative factors
We're being conservative with these estimates. However, it doesn't matter if your fan has a CFM well above what you need since you can slow it down but you can't speed it up beyond its top speed. These conservative factors also make up for the design elements that can slow down the airflow.
For example, every curve in the duct slows down the airflow by about five percent. If this information isn't sufficient, there are online calculators that allow you to get an exact answer based on your grow tent's design.
Should I leave my fan on when the lights are off?
---
If the lights are on, the fans must be on. At a minimum, the intake and exhaust fans must be running if the lights are on.
An oscillating fan at the top and bottom of the plants is optional if there are heat-generating lights on. If you have a small grow tent, a clip-on fan hanging from the top of the grow tent may be sufficient.
A gentle breeze without being noisy
The best clip-on fan for grow tent usage has a gentle breeze without being too noisy. You could even use a baby fan since it wouldn't damage anything it comes into contact with.
But what if the lights are off?
The heat created by these lights lingers. To maintain an even temperature profile, the inline fans should run for an hour after the lights go off. Keep any oscillating fans on for the entire dark period.
The best oscillating fan for grow tents is quiet enough to let you sleep if the grow tent is located in your closet.
Top Questions About Grow Tents Fan
---
Where should I put my oscillating fan in my grow room?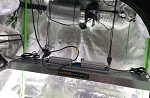 Don't point a fan directly at the plants. This can damage them. Blowing the stems doesn't help the plants, either. Set up a fan so that it is creating a gentle breeze at and above the canopy level.
You can also have a modest breeze at the base of the plants so that you fight condensation and mold growth. A lot of pests like high humidity and stagnant air.
Should you put a fan on seedlings?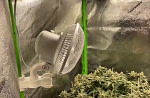 Seedlings do benefit from air circulation. One reason is that the air circulation prevents hot, moist areas that foster mold and pest growth. Another reason why you may want to direct a gentle air current at the seedlings is that this fosters stronger seedlings.
They become sturdy in the face of light artificial wind, allowing them to grow taller when they're mature. Just don't forget to include enough blue light to foster such development.
How can I make my grow tent quieter?
A good starting point is with the fan. Choose inline fans that fit tightly in the ducting or form a secure seal with the ducts. Some fans have thick padding to minimize the vibration noise that naturally occurs when you have rapidly rotating fan blades.
Choose a fan with lubricated bearings that move as smoothly as possible. You can take things one step further by insulating the ducts to minimize the noise created by air whooshing through.
Do I need air intake in my Grow Tent?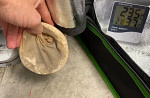 The short answer is yes. A grow tent with exhaust but without a matching air intake may develop negative air pressure so bad that it folds up the tent. In general, it will result in poorer airflow, because the exhaust fans are pushing air out, but the negative air pressure isn't enough to ensure adequate air intake.
Furthermore, if you're trying to maintain an ideal climate inside a grow tent, you can't afford to rely on passive cooling. Everything needs to be controlled so that you have the right temperature and humidity level.
When to locate fans farther away?
If the grow tent fans and related equipment are noisy, you can try to locate them farther away from you, though this isn't always an option.
You could also put noise-absorbing insulation in the walls and on the door of the room containing the grow tent.
Final Verdict
---
The best fan for growing tent usage will depend on your plants and grow tent.
How much air do you need to move per minute?
How much power is available?
How much space do you have?
What other features do you need?
Everything beyond that is a matter of preference.