Do you always dread having to clean your gutters several times a year? You definitely are not alone because it can be risky to use a ladder. Besides, according to the American Academy of Orthopedic Surgeons, at least 500,000 cases of ladder-related injuries are reported every year.
The good news? With the help of the best gutter guards, you don't have to clean your gutters every so often.
So, how is this even possible? Well, it's because these guards are designed to keep all kinds of debris out of your gutter. This helps ensure your gutters don't clog up. As a result, you will probably only have to clean your gutters once a year.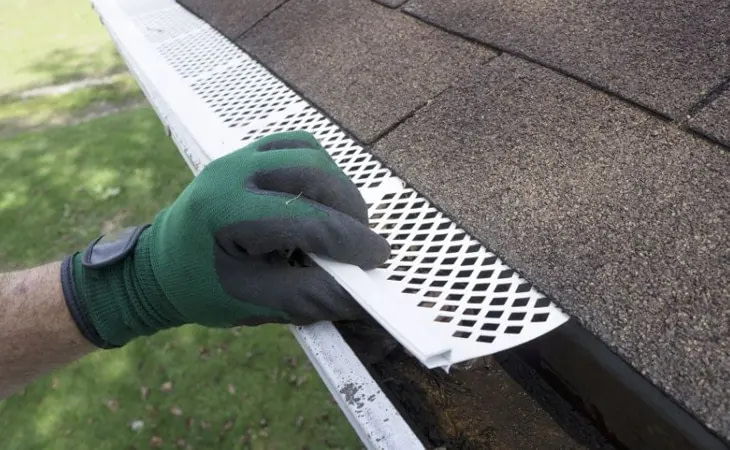 But are gutter guards really worth it? If yes, how do you know which is the best choice for your gutter system? In this case, I suggest you consider features such as the type, size, cost, and material of the guards. Of course, there are other things to consider.
Now, keeping the above in mind, I did test a wide range of different gutter guards on the market. I then narrowed down the list to the 7 best options. So, keep reading to find out our top picks, the different types available, and how to choose the best one.
Our Top 7 Best Gutter Guards Choices
---
Now that you know what to consider when buying gutter guards, which are the best options? Here is our explanation of the top 7 best gutter guards available on the market.
01. LeafTek 5" x 200' Gutter Guard
---
Why Did I Choose This Brand?
First, it is made in the USA using .019-gauge thick aluminum for long-lasting performance. And secondly, I love that the manufacturer offers a 35-year warranty and a 30-day money-back guarantee. So, you get to enjoy risk-free purchases.
My Experience with it
My team and I really had an easy time installing this gutter cover. This is because each section of the guard came with a 1/2″ tab on one end. As such, I only had to slide the adjoining section over to install it.
Another thing I loved about this product is its proprietary down-draft ridge design. The purpose of this design is to ensure you don't have to deal with standing water in your gutters.
What should be improved
While the guard has a low-profile design, I wish the manufacturer could offer more color options to choose from.
Who is it great for
Any DIYer enthusiast will love this leaf guard. Also, it is ideal for anyone looking for a durable gutter cover.
What I Didn't Like
The guard arrived with no screws.
I had to make a couple of adjustments to the guard so I could get a perfect fit.
HIGHLIGHTED FEATURES
---
Made of .019-gauge thick aluminum
Includes 404 holes per square foot each measuring 1/8"
Down-draft ridge design eliminates standing water
7 days a week customer support via phone or email
Backed by a 35-year warranty
Pros
Available in 5 and 6-inch sizes plus an 8" sample
Keeps everything out, even small debris
Free shipping
Invisible from the ground
Keeps your gutters dry and clean
Can easily handle heavy rainfall
Cons
Does not include enough screws
02. FlexxPoint 30-Year Gutter Cover System
---
Why Did I Choose This Brand?
One of the reasons is that this gutter cover employs a patented 3-point design. So, you won't have to deal with water overflow issues. Another reason is the fact that you can get it in white, black, brown, and matte color options.
My Experience with it
I loved that the guard is constructed from .019 heavy gauge and fully hardened aluminum. And after getting my hands on it, I found it to be thick enough to last for years. Its thickness also made me feel it could handle high-volume water flow.
Just like the LeafTek 5"x 200 Gutter Guard, I was able to install this product with ease. I simply used the durable stainless-steel fasteners it came with.
What should be improved
The manufacturer should try making the holes a little bigger in size. This way, you won't have to worry about the water running off the cover during a heavy downpour.
Who is it great for
It is ideal for anyone looking for a leaf guard that comes in a wide range of color choices.
What I Didn't Like
Unfortunately, the manufacturer does not provide a sample pack.
I found the holes a little too small.
HIGHLIGHTED FEATURES
---
Covered by a 30-year performance and defect warranty
Made in the USA with .019 heavy-gauge aluminum
Available in up to 6" commercial sizes
3-point design for superior airflow
Includes rust-resistant 1/2″ stainless-steel screws
Pros
Easy to trim the corners
All mounting hardware is included
Not visible from the ground
Installs permanently
Straightforward installation
Does not void roof warranties
Cons
It might easily clog with seeds
Customer service could be better
03. A-M 5 Inch Aluminum Gutter Guard (200', Mill Finish)
---
Why Did I Choose This Brand?
First of all, it's because the leaf guard is backed by a lifetime warranty. Therefore, you can buy with confidence knowing it is protected against rust and rot. Even better, I love that it includes a sample pack.
My Experience with it
Thanks to its patented design, it was easy to install this system on different types of hangers. Even if it is specifically designed for hidden hangers, I did manage to mount the guard on a K-style hanger.
I was pleased to learn that per each linear foot, the guard has 380 holes. Because of this, I felt it could easily handle heavy downpours. Even better, I found it could keep away both small and large twigs.
What should be improved
For the price, the manufacturer should have at least included the 1/2″ zip screws needed for installation.
Who is it great for
If your gutters have hidden hangers, these guards are for you. You will find them very easy to install.
What I Didn't Like
I was disappointed because I could only get the guard in a mill finish color.
You have to buy the mounting screws separately.
HIGHLIGHTED FEATURES
---
Constructed from .018 industrial gauge aluminum
Made in the USA and covered by a lifetime warranty
Works with hidden and all types of hangers
Patented bubble design for free flow of water
Up to 380 holes per foot
Pros
Pre-cut tubs for easy installation
Nearly invisible from the ground
Made from rust-resistant aluminum
Installs on new and old gutters
Comes in 5" and 6" sizes
Fast and responsive customer support
Cons
04. Amerimax Home Products 636025 Lock-In Gutter Guard
---
Why Did I Choose This Brand?
The main reason is its unique construction. You see, the guard boasts a tight metal mesh pattern that is sure to keep most debris out of your gutter. Best of all, it is constructed from powder-coated steel that is durable enough to handle heavy rain.
My Experience with it
One amazing thing about this guard is that you can install it with barely any tools. All you have to do is slip the flat side of the cover under the shingle. Then, lock the curved portion into the front edge of your gutters.
The best thing about this guard is its compatibility. I was able to use it with both 4", 5", and 6" k-style gutters. And thanks to its pre-notched design, there were no gaps left in between.
What should be improved
I feel a 10-year warranty is too short, considering most products in this detail offer over a 30-years warranty.
Who is it great for
If you are on a budget and looking for high-quality stainless-steel gutter guards, this product is for you.
What I Didn't Like
I had to do a lot of modifications to get the perfect fit.
HIGHLIGHTED FEATURES
---
Boasts a metal mesh design to keep most debris out
Backed by a 10-year limited warranty
Made of durable and powder-coated stainless steel
Simple lock-in installation design without screws
Fits 4, 5, and 6-inches K-style metal gutters
Pros
Can handle mild to high volume water flow
Made in the USA
Easy to cut with tin snips
Resistant to rust and corrosion
Competitively priced
Blends seamlessly for minimal visibility
Cons
Not ideal for pine needles
No sizing samples
05. Superior New Raised Stainless-Steel Screen Gutter Cover
---
Why Did I Choose This Brand?
To begin with, I love that it is built and engineered in the USA using a stainless steel screen. So, you can bet that it is capable of keeping even the finest debris out of your gutter. In addition, it boasts a modern raised-ridge design, thereby making it invisible from the ground.
My Experience with it
This kit comes with everything you need for quick installation right out of the box. I received clear instructions, self-tapping stainless-steel screws, and even a hex nut setter. All I did was get an impact drill for fastening the screws.
I discovered the frame was made from rust and warp-resistant aluminum. Meanwhile, the screen boasts stainless-steel construction with a micro-mesh design. So, apart from offering durable performance, I felt it could handle the harshest of weather conditions.
What should be improved
The manufacturer should consider offering the kit in other sizes for ease of installation on gutters other than 5 inches.
Who is it great for
I feel it is best suited for any DIY homeowner because of its super-easy installation design.
What I Didn't Like
I could not find a sample pack to try out first.
HIGHLIGHTED FEATURES
---
Employs raised stainless-steel screen technology
Fits any 5-inch gutters and most roof types
Backed by a 20-year warranty
Flex-fit frame made of rust-proof aluminum
Self-piercing mounting screws require no drilling
Pros
Minimal tools needed for installation
Fine mesh keeps small twigs out
Solidly built from aluminum and stainless steel materials
Excellent customer service support
Easily handles heavy downpours
Hassle-free to trim the corners
Cons
Only available in one size
Few complaints about missing screws
06. GutterBrush Gutter Guard 15 Ft. for 5 Inch Gutters
---
Why Did I Choose This Brand?
You see, unlike most leaf filters, you don't need any screws or tools to install this product. All you've got to do is insert the bristled brush into your clean gutter system. Therefore, at the end of the day, it won't interfere with your roofing structure.
My Experience with it
Made in the USA, you will be pleased to learn that this gutter cover features galvanized steel wire core construction. Its bristles, on the other hand, are made of durable UV-resistant polypropylene. For this reason, I felt it could withstand heavy downpours and last for years.
Thanks to its cylinder-shaped design, I could tell that this brush would do an excellent job of blocking all debris. Its design also comes in handy in ensuring water flows freely.
What should be improved
The return shipping fee could be made free or at least less expensive.
Who is it great for
It would be an excellent choice for anyone searching for a brush guard cover that offers year-round protection.
What I Didn't Like
Small twigs and leaves may get stuck between the bristles.
It might be a lot of work to maintain.
HIGHLIGHTED FEATURES
---
Climate-resistant black polypropylene bristles
Perfect fit for 5-inch aluminum gutters
Backed by a reliable 10-year material warranty
The core is constructed from durable galvanized steel wire
3 sections of sizing samples to confirm the fit
Pros
No fasteners or cutting tools needed
Affordably priced
Easy to lay inside your gutters
Backed by high-quality customer service
Fits most standard gutters
Stays invisible from the ground
Cons
Quite expensive to make returns
Requires frequent maintenance
07. GutterStuff GS-K4-48box-DS Foam 4-Inch Gutter Filter
---
Why Did I Choose This Brand?
I love that it is affordable and made with durability in mind. Simply, this gutter cover is constructed from high-quality and lightweight polyether foam that is not easy to bend or dent. Even after years of use, the guard will stay in shape and won't crumble.
My Experience with it
This gutter cover is available in different styles to choose from based on your gutter's design. You can get it in K-gutter, fascia gutter, or half-round gutter styles. I found this very convenient because it was easy to achieve a perfect fit by choosing the right style.
Similar to the GutterBrush Gutter Guard model, you don't need any tools or fasteners to install this kit. You simply lay the foam inside your gutter and use a utility knife to trim its length.
What should be improved
Since it looks like a durable leaf guard, I wish the manufacturer could offer a longer warranty period. I feel 5-years is too short.
Who is it great for
Anyone looking for an affordable, effective, easy-to-use, safe, and long-lasting gutter guard.
What I Didn't Like
It can be a hassle to slide the foam under your gutter nails.
The 5-year performance warranty is too short.
HIGHLIGHTED FEATURES
---
Made in the USA using dent-free polyether outdoor foam
UV and germicide protected
Backed by a 5-year performance warranty
Easy DIY installation without tools
Available in 4-inch sizes
Pros
Handles normal rain showers effectively
Lightweight for ease of handling
Prevents mosquito breeding
Relatively inexpensive
Keeps both small and large debris out
Does not bend or crumble
Cons
Not an excellent choice for heavy downpours
What Is A Gutter Guard?
---
Also referred to as gutter covers or leaf guards, a gutter guard is a device for preventing clogged gutters. You simply install the guard over your gutters. As a result, the device will prevent debris, twigs, and leaves from collecting in your gutters.
Consequently, this ensures rainwater flows freely from your roof's surface to the drain. This means you can save on gutter maintenance costs.
Because of their many benefits, the demand for gutter guards is expected to continue increasing. For instance, in the US, it is estimated to surge at approximately 2.5% per year to $746 million in 2025.
Different Types Of Gutter Guards
---
There are 6 major types of gutter covers. So, I suggest knowing what each type has to offer before making your purchase. Let's check them out.
i. Screen guards
As the name suggests, these guards have screens to keep debris out of your gutters. The guards comprise strips of mesh-like material typically constructed from metal or PVC.
You will also notice they have big holes to ensure water flows out freely. The best part about screen guards is that you can easily install them yourself. On top of that, they are quite affordable.
ii. Micro-mesh gutter guards
These guards are generally built from stainless steel and feature almost invisible holes. So, compared to screen guards, they are more efficient at blocking most debris.
I suggest getting this type of guard if you want a permanent solution to gutter clogging. The downside is that you cannot install micro-mesh gutter guards yourself. You need professional help.
iii. Perforated covers
Perforated gutter guards are mostly made of heavy-duty aluminum for enhanced durability. The guards feature a series of holes or perforations to allow water to flow while keeping debris out. However, the holes may not block smaller debris like pine needles.
iV. Reverse-curve gutter guards
Also referred to as surface tension covers, these guards are made of molded plastic or lightweight metal materials. Once you install them, they work by directing the water down. Also, the guards allow debris, leaves, and twigs to fall to the ground below.
On the flip side, though, you will find them quite pricey compared to screen and micro-mesh guard options. In addition, they are not easy to maintain, and you cannot install them yourself.
V. Brush gutter guards
These are cylinder-shaped brushes that look like large pipe cleaners. Essentially, the guards are made of thick metal wire and stiff bristles. This helps keep large debris out of your gutter while allowing water to flow freely.
Besides the screen guards, I recommend brush gutter guards if you're looking for an easy-to-install cover. You will also find these guards an excellent choice if you're on a budget.
Vi. Foam gutter guards
As you might guess, these guards comprise pieces of foam that you can fit inside your gutters. Like the rest of the guards, foam guard covers do a great job of preventing debris from accumulating in your gutter.
The best part is that if you are a DIYer enthusiast, you can easily install them. Even better, these guards are inexpensive.
What To Consider When Choosing The Gutter Guards?
---
Because of the many gutter guards available, how do you decide which is the best option for your needs? Here are a few aspects you might want to consider.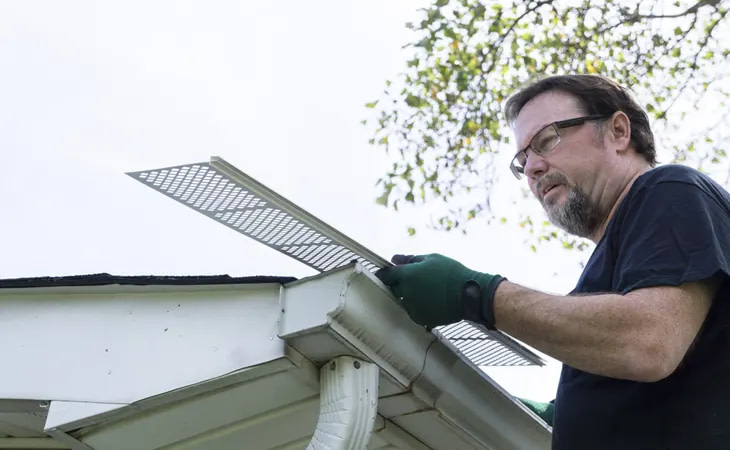 1. Size
In most cases, gutter covers are not one size fits all. The most common sizes you will come across are:
4-inch gutters
5-inch gutters
6-inch gutters
Among the three sizes, 5-inch gutters are considered the standard size. However, 6-inch gutters offer better performance when it comes to handling heavy downpours.
To determine which size gutter cover you need, I suggest you measure the width of your gutters. Simply, measure the top of your gutter from the inside to the outside edge to get the correct fit.
2. Material
Just like with size, gutter covers are made of different material types. And each material has its pros and cons. Some of the common types of materials include:
3. Stainless steel
Although a little expensive compared to other types of materials, stainless steel is the most durable option. I recommend this material because it offers many benefits, including resistance to warping, corrosion, and extreme temperatures.
4. Aluminum
Most affordable leaf guards are made of high-strength .019-gauge aluminum. This material is thick enough to handle heavy water flow. So, if you are looking for lightweight yet durable guards, I suggest you get ones made of aluminum.
5. Copper
Copper gutter guards are very rare to find. This is because they are also expensive to manufacture. So, if you are not on a budget and searching for the most durable gutter cover, I recommend this option.
6. Plastics
This material is popular with brush guards. The bristles are made of plastics such as polypropylene, but the core is stainless steel. Although not as durable as aluminum, I would recommend plastic guards because of their affordability. 
7. Foam
Just like plastic, foam is also an inexpensive gutter guard material. It is also durable but more susceptible to mold growth.
8. Visibility
Some leaf guard models are designed to stick out from the ground, while others are not. Overall, I suggest getting a kit that is invisible from the ground. This way, you can avoid interfering with your home's visual appeal. 
As far as visibility is concerned, you should consider the color and finish of the guard. If you can, get a color that blends seamlessly with your roof's finish. Some best colors and finishes to consider are:
On the other hand, you might also want to consider a leaf guard with a low-profile design. Such units tend to install directly to the lip of your gutter and under the second row of shingles.
9. Easy installation
Most gutter guards on the market are built for DIY installation. However, some require professional installation. If you are a DIYer enthusiast, I would suggest getting a kit designed for easy installation.
For instance, you could get a model that requires no tools or even screws to install. Because for such units, you just need to slide the guard inside your gutter. An easy-to-install unit should also feature:
Clear instructions
Easy to trim corners
Includes all the mounting screws needed
10. After selling service/Customer care
Another aspect you must consider when buying leaf guards is after-sales support or simply customer care. In this regard, I recommend getting a kit backed by 7-day-a-week customer service. For added convenience, look for a manufacturer that offers customer support via different means like:
Email
Phone
Text or live chat
What you must do is search for details from people who have used the gutter covers. Then, look out for information such as how fast the manufacturer responds to questions.
11. Cost and value
There is a common belief that if a product costs more, it is of better quality than its cheaper counterpart. In most cases, this is usually true and the same applies to gutter guards.
Overall, when it comes to cost, you want to consider a product that offers you value for money. Such a unit should be durable enough to withstand all kinds of weather conditions. Also, it could be backed by either of the following:
A longer warranty period
Hassle-free money-back guarantee
Free shipping and easy returns
Conclusion
---
Choosing the best gutter guards requires due diligence. You have to decide whether you want a screen, micro-mesh, perforated, brush, reverse curve, or foam guard. In addition, you need to know what features to consider. After all, these units are not built equally.
For instance, you will have to choose between guards made of aluminum and stainless steel materials. More so, you must consider the size of the guards and the ease of installation. I also suggest you look out for things like customer support, cost, and visibility of the leaf guards.
By and large, I found the best overall gutter cover to be the LeafTek 5" x 200 Gutter Guard. This is because it is made of heavy-duty aluminum and is backed by a 35-year warranty. The best part is its low-profile design and ease of installation.
But what if you prefer guards made of stainless steel over aluminum materials? In this case, I suggest the Amerimax Home Products 636025 Lock-In Gutter Guard. You will also love that it is compatible with various K-style gutters.
Alternatively, if you would like a truly easy-to-install unit, the GutterBrush Gutter Guard 15 Ft. is the best. With this guard, you won't need any tools or fasteners to mount it to your gutter. You simply insert the cover into your gutter system.