Renting homes has been commonplace for many generations in American culture. In fact, in statistics data by ipropertymanagement.com, it was stated that 36% of American households are renting homes. That is equivalent to 44.1 million households in 2021.
We cannot deny that these temporary homes offer financial benefits and the freedom to move as we desire. But I also think that they sometimes don't feel homey or efficient for many of us. This makes adhesive strips or hooks great renter companions in keeping temporary spaces more personal, decorative, and efficient.
If you are looking for the best picture hangers without nails, look no more because I've already selected the best for you.
What Is A Gorilla Hook?
---
If you're looking for heavy-duty hooks, then gorilla hooks are very suitable for you. A gorilla hook is a type of thick steel hook that allows you to hang frames on drywall. To use this, start by piercing the wall with the hook itself and turning it down to make the hook face out. Then, push the hook into the wall securing its place.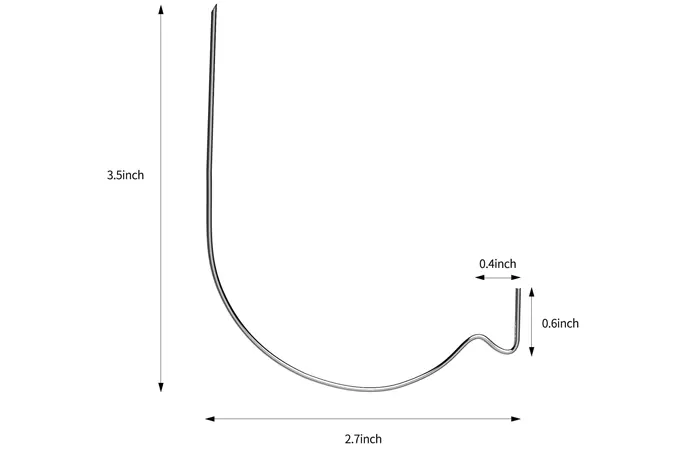 It requires some effort to install but it can hold objects up to 50 pounds. if installed correctly. They are also more secure compared to adhesive hooks. However, expect some visible holes in the surface once it is removed.
Our Top 3 Best Picture Hangers without Nails
---
01. 3M Large Canvass Hanger (Easy Installation and Reliable Adhesive)
---
This set of adhesive command strips can be used on painted walls, metal, painted/varnished wood, glass, painted cinder block or concrete, laminates, tile, and smooth solid surfaces.
It doesn't need any tools for installation and holds strong canvasses up to 24″ X 36″, and up to 5 pounds. It can hold different canvases and frames with hardware, sawtooth frames, wire back frames, canvas, and frames without hardware.
You can easily hang your picture frames, wall art, mirrors, wall clocks, and other home decor without worrying about any damage to your wall.
Our Experience with It
Our overall experience with these command strips is pretty good. Installing them on walls is foolproof and unexpectedly easy. Once, we have decided where to install them, putting them on is almost effortless. However, keeping the frame level is a little tricky so we recommend checking the leveling before sticking it to the wall.
To install, we first used rubbing alcohol as per the instructions. According to the shop, other house cleaners and water can leave a slippery residue so take note of that.
We installed this product on concrete walls and they worked just fine and were able to hold even a 31.5″ x 24″ canvas. But since it's bigger than the size they are meant to support, we had to install the hangers in the upper corners. Remember to press it on the wall while installing it to have a secure hold.
After pressing, we waited one hour for the adhesive to stick better on the wall.
While installing the remaining frames we have, we discovered that when you are hanging larger than the recommended size canvas or frames, it's best to opt for two large command strips rather than one extra-large.
Humidity often affects the adhesiveness of these kinds of products but even after several days, the command strips were able to maintain their grip even if the air conditioner was off and the humidity is relatively high. Despite this, we still strongly suggest using these strips under non-humid weather and temperature conditions for maximum results and long-term adhesiveness.
Removing them was relatively easy and didn't leave any mark on the wall.
What We Didn't Like
Unfortunately, this product doesn't work on flat board canvas and decor.
It doesn't stick on textured surfaces and bricks.
Who Is This Great for
This product is made for renters or homeowners who are always busy and are not good at using tools.
What Could Be Improved
The manufacturer needs to make it more available for other textures and flat boards.
Pros
Can hold large canvas
Tool-free installation
Suitable for the usual house surfaces and glass
Damage-free removal
Cons
Can't be used on textured walls/textured surfaces, wallpaper, brick, tough or non-stick surfaces, and fabrics.
Can't hold flat board canvas and decor.
02. Crebri Adhesive Picture Hanger (Good Value for Money)
---
This adhesive picture hanger set comes at an affordable price and includes 4 hangers and 8 strips so you can get more items without breaking the bank. The adhesive sticks pretty well on any concrete and smooth surfaces with proper installation.
They work as an excellent alternative to hanging pictures and are compatible with picture hangers. keyhole hangers. D-Ring, and Picture hanger wire. It can hold up to 4 pounds and can be installed inside or outside the house.
More importantly, they leave no holes or residue when it's time to remove them from their place.
Our Experience with It
It was a bit of a surprise to get 4 hangers and 8 strips from the cost we paid for. It is a good buy, especially for young and new renters who are excited to hang and organize their things on the wall.
Installing was pretty easy too. We find it very helpful that the shop provided a detailed how-to-install guide on their shop's page. To install, we simply remove the adhesive tape and hung our frame.
They worked best on sawtooth and wire hardware but it took some time to level the picture. It also worked with keyhole and D-rings frames.
It was able to hold a frame that is 4 pounds. The glue is strong enough for this weight but we don't think that it can hold things that are heavier than this.
When it comes to the surface, we found it most effective on drywall or plain walls and not textured walls.
What We Didn't Like
These adhesive hangers don't work on many surfaces
Who Is This Great for
These adhesives will be very useful for people who are new to renting and are shopping on a budget. They retail at an affordable price with good quality materials and adhesion.
What Could Be Improved
If I were to make a suggestion to the manufacturer, I would suggest making the adhesive suitable for many surfaces other than plain smooth surfaces.
Pros
Cost-effective
Offers good adhesiveness
Can hold up to 4 lbs
The package comes with many hooks
Cons
This product is only effectively used on plain and smooth surfaces.
03. Amerlery Picture Hanger (Suitable for Heavy Frames)
---
This picture hanger is specially designed for heavy frames and objects. It can hold objects that weigh up to 35 pounds. Because it is hammered into the wall, it offers a better grip that is not affected by humidity or water. It is also good to use outside.
It works well on many surfaces including concrete walls, doors, textured surfaces, and others. You can feel safe hanging delicate items such as mirrors, clocks, and glass frames. Its price is affordable and one pack includes hooks in four sizes and a total of 40 hooks.
Our Experience with It
This package includes the hooks and other tools that can be used for installation. These tools are a pencil, balancer, and tape measure. They aren't the best quality tools but they make the job done. Aside from these tools, a hammer is another tool that you should prepare yourself.
Even if it is advertised as easy to install, we still needed to exert some handyman skills to install them on the wall. They are also difficult to keep centered while installing so you have to hammer carefully to not damage the wall.
The steel nails were thin enough to leave only little holes which is a good thing for renters as they can easily use plasters to fix the holes.
One thing that we saw as an advantage is that not all hooks in the package are high quality. Some are sort of under the quality expected. Nevertheless, it comes with many hooks so you have a lot of spares.
What We Didn't Like
Some of the hooks were of lesser quality
Might leave damages if not installed or removed correctly
Requires effort and tools in the installation
Who Is This Great for
This product is great for people who love hanging large objects on the wall. It is also a great option for people who can work with tools.
What Could Be Improved
The manufacturer should perform better quality control to ensure that all hooks are created with the same quality.
Pros
Can support heavy frames or objects
Offer good grip to the walls
Isn't affected by humidity and weather
Can be used indoors or outdoors
Cons
Leave minimal wall damages
Need tools to install
Some of the hooks were defective
FAQs Regarding Picture Hangers
---
Do Command Strips Work for Heavy Pictures?
It still depends on your definition of heavy. If your definition of heavy is 10 pounds then you shouldn't have any problems using large command strips.
Large command strips can usually hold up to 24 pounds. If the object you want to hang is heavier than that, I strongly suggest looking into other options to avoid any damage to your walls and belongings.
Do Command Strips Take Off Paint?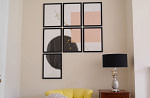 No. Command strips are designed not to cause any damage to the wall. However, you have to be careful in removing them to not cause any paint to peel off. If the usual stretching removal technique doesn't seem to be safe for the wall paint, try heating the strips with a hairdryer.
Turn on your hair dryer and use a medium to high heat setting. Face the nozzle to the strips and keep it on for a few minutes. This will make them lose their adhesive.
If you have no available hairdryer, you can use a liquid or gel varnish remover to weaken the adhesive.
Brush the varnish remover over the adhesive and scrape it off when the adhesive becomes soft.
What is the Heaviest Weight Command Strips Can Hold?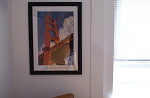 Command strips can come in different sizes. The largest size can typically hold 24-inch to 36-inch frames that weigh a maximum of 16 pounds.
For the smallest size, it can hold up to 4 pounds only. When purchasing, always take note of the weight of the object you want to hang as it can influence the effectiveness of the adhesive grip.
Are Command Strips Double-Sided?
Yes. command picture hanging strips feature double-sided adhesive and can be used in either direction. When you purchase them, they are pair of adhesive strips.
You need to separate these strips and tear them apart. Stick together the non-adhesive sides making them double-sided adhesive strips.
Conclusion
---
Renting homes requires extra care and effort when it comes to modifications and personalization. If you are in strict agreement with your apartment, I strongly suggest opting for adhesive strips rather than any hooks that are nailed.
It will also help if you have someone to help you level the frames so you won't have to repeat the process again and again making the adhesive less effective.
For additional pieces of advice, I suggest letting the adhesive hold onto the wall for an hour before hanging any objects. Over and above, it is always a virtue to read and follow instructions indicated on the packaging.