Do you have an antique crystal chandelier and want to know how much it's worth but can't figure out the manufacturer? I understand; I've been there.
Not everyone can identify chandeliers by their make and may not even be able to distinguish one from another. The reason for this, of course, is simple – most people only deal with chandeliers in the context of choosing one. So, unless you are an expert in the field, it's hard to tell apart one manufacturer from another.
To make sure you get exactly what you want, pay attention to these top tips on how to identify chandelier manufacturers.
What Is A Chandelier?
---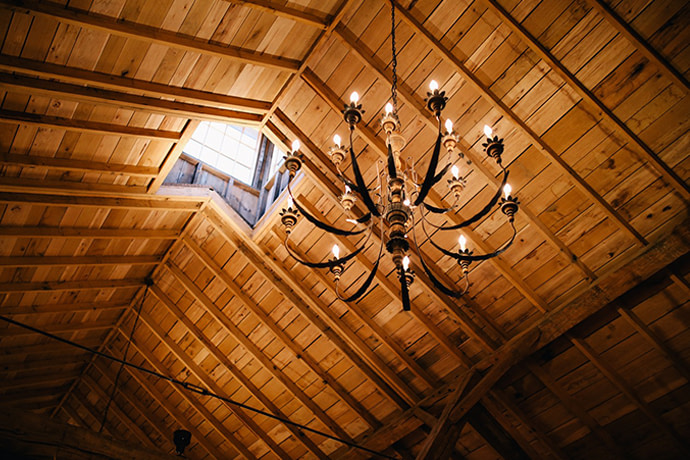 A chandelier is an ornamental light fixture used to illuminate and decorate interior spaces such as hallways, living rooms, dining rooms, bedrooms, staircases, and entryways. They traditionally hang from the ceiling via chain links or wires but also may be mounted on the wall or placed on a pedestal.
Also known as suspended lights, chandeliers can be modern, classic, or vintage, with multiple arms that bear lights or candles.
What Does a Chandelier Manufacturer Mean?
---
A chandelier manufacturer is a company that makes and sells chandeliers and their parts.
What do "B", "R", "K", and "H" mean in the Chandelier Manufacturer?
---
It represents date letter marks, a system created in 1470. It indicates the date when the chandelier was manufactured and assayed. Below we are showing which years the letters B, R, K, and H indicate.
| | | | | | |
| --- | --- | --- | --- | --- | --- |
| B – | 1639, | 1659, | 1679, | 1774, | 1798 |
| R – | 1654, | 1674, | 1704, | 1737, | 1789 |
| K – | 1647, | 1667, | 1694, | 1758, | 1782 |
| H – | 1645, | 1754, | 1774, | 1780, | 1804 |
To specify which years your chandelier corresponds, you need to understand the different fonts and borders of the marking.
How to Identify a Chandelier Manufacturer?
---
Chandeliers will hold their value if they are from a well-known manufacturer. You can check for labels and hallmarks if you'd like to identify a chandelier maker. But this isn't always possible, especially for antique chandeliers with no such marks.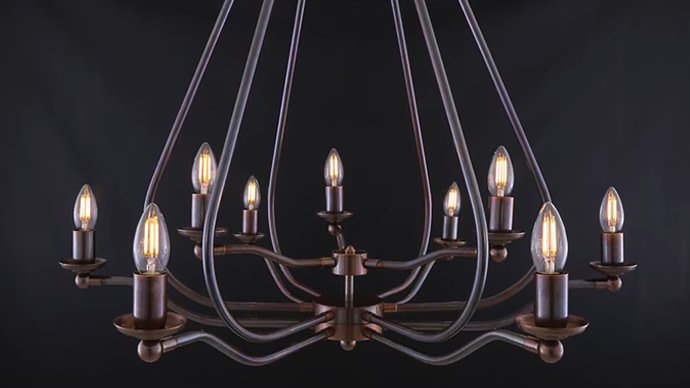 Don't despair. These tips will help you identify a chandelier manufacturer, no matter how old or new it is. In fact, it's your best bet on how to identify crystal chandeliers.
01. Examine The Drip Pans/Bobeche
---
The drip pans/bobeche are the small saucer-like crystal receptacles at the bottom of each arm. Drip pans catch wax drippings from the lit candle.
Bobeches are unique to certain manufacturers. So, if you can spot the specific design, knowing the manufacturer is pretty easy.
There are four distinct chandelier manufacturers based on drip pan design: Baccarat, French, British, and Baltic.
Classic Baccarat chandeliers often have round drip pans with shallow grooves along the edges. Also, the glass is thin, making a slight texture.
British chandeliers have star-shaped drip pans with multiple almond-like drops. The pans have holes in one or both ends where the almond drops hang from.
F & C Osler and Perry & Co are the two most popular British chandelier manufacturers. But how do you tell them apart if they have the same drip pan design?
Well, the difference is in the arm design. F & C Osler chandeliers have candle-shaped lights with brass fittings on each arm. Also, the shade on the arms looks like tulips. On the other hand, Perry & Co chandelier arms have a unique thumbprint with an oval-shaped depression. The depression is repeated underneath the drip pan.
French chandelier manufacturers have floral-shaped drip pans.
Brass drip pans characterize Baltic chandelier manufacturers.
02. Check The Glass Color
---
While antique fixture makers produced many different styles, the glass color and design are a good place to start when trying to identify the maker. Examining the color of a chandelier's glass makes it possible to determine its age and origin.
Most antique manufacturers use unclear, slightly tinted glass with yellow or gray tones. For instance, authentic antique pieces from 19th-century manufacturers have a gray tint.
Also, you can use the glass color and design to differentiate between Baltic and French chandeliers.
Baltic (Russian and Swedish) chandeliers have slightly bluish crystals. In addition, they have a unique dish-shaped piece in the center.
Glass with mixed colors indicates a French chandelier manufacturer. The colored crystals are usually in the drops. Depending on the design, the drops can be the plague, almond, or kite-shaped.
03. Find Unique Features
---
You can identify the maker of your chandelier by researching several elements, including the style and form, surface treatment, metalwork, wiring, and other design twists.
Chandeliers from the 1800s were not wired for electricity. Instead, they used candles and were later redesigned in the mid-1800 to include hollow arms for gas lighting. So if your chandelier has no electrical wires and no power cord, it's probably an antique chandelier—or at least very old.
Also, Italian and Australian antique chandeliers had a metal core with a glass exterior for an easy takedown when traveling.
When looking at antique chandeliers, one of the things that you'll notice is that they're made of different kinds of materials. Brass, bronze, and copper, in particular, are common materials for antique pieces.
Antique chandeliers tend to have more detailed designs than modern ones, which makes them more versatile. The drops, for instance, are faceted on both sides. For comparison, modern drops are faceted on one side; the other is smooth. Also, antique chandeliers from the 18th century typically have daisy-shaped buttons.
04. Search The "Ul" Stickers
---
The UL label is the most secure method of identifying the manufacturer of your chandelier. However, it only applies to electrical chandeliers.
When looking for a UL sticker, ensure it's not on a power cord or plug but on the chandelier's body. You might find it in an inconspicuous spot, like the bottom of a chandelier. If you can't identify a UL sticker, it might be worth paying someone to disassemble it to look for a manufacturer's nameplate.
Also, you can check for any other labels or tags that might provide clues about the manufacturer.
05. Call A Local Expert For Help
---
Another option is to call a local lighting expert. These professionals can help you narrow down your search and provide you with some useful tips.
06. Ask For Help On Forums Or Blogs
---
There are plenty of experts on blogs and forums who can offer their advice. Here are a few things to keep in mind when asking for help:
Be specific about what you're looking for; the more information you can provide, the better.
Include photos if possible.
07. Purchase From A Reputable Dealer
---
Ask the vendor for further details on any chandelier you are interested in purchasing. You should be able to learn a lot about the chandelier from a knowledgeable dealer. Based on the properties of the materials used, the forms and colors of the cut crystal, and the design, an expert dealer should be able to determine the manufacturer and the approximate age of the chandelier.
Here are a few tips to help you find a reputable dealer:
Look for dealers who specialize in chandeliers
Check out online reviews of dealers before making a purchase
Ask around for recommendations from friends or family members who have purchased chandeliers in the past.
FAQs Regarding The Chandelier
---
For further details on how to identify chandelier manufacturers, age, and value, please check out our FAQs.
Question: How Do I Know If My Chandelier Is Valuable?
Answer: One way to tell if a chandelier is valuable is by its manufacturer. If you can identify the manufacturer, you can research how much the piece is worth.
Question: How To Identify Old Crystal Chandeliers?
Answer: Examine the crystal color for a gray tint. It indicates the high lead content of  19th-century chandeliers.
Question: How Can You Tell How Old A Chandelier Is?
Answer: Take a look at the overall style. If it has a lot of intricate details with no wiring, it's likely an antique from the 19th century. Also, check for any maker's marks or stamps to help you date the piece to a specific period.
Conclusion
---
Now you know the basics of how to identify a chandelier manufacturer and assess its value. However, like any collectible, ensure it's in original condition for better value. You might want to examine the chandelier for chips, cracks, or missing pieces. Also, check whether there is any replacement with newer materials to avoid refurbished pieces.